Fun & easy to learn
Here in ARUBA we have very nice conditions for Paddle boarding wether its for flat water paddling or catching little waves.
It is very important to take proper instructions from a qualified instructor.Aruba is a very windy island and this can make it a bit tricky.
Here at the ARUBA SURF AND PADDLE SCHOOL we will teach you all you need to know on how to paddle and deal with the conditions the island.Anybody can grab a board and paddle and take off, but it will make a world of a difference when you receive proper instructions and this will also make for a very pleasant experience.
This is a must, my two girls did this with Dennis twice this week and they loved it. Excellent teacher and all around nice guy. Thanks Dennis!
Walter Ballantyne
,
December 3, 2014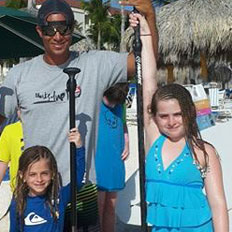 I just returned from my second visit to Aruba and must say after taking lessons from several different places on Palm beach in dennis is by FAR the BEST instructor! He's a great teacher, kind, patient, understanding and most of all great fun! Can't wait for my next trip back!
Contact
  Book direct for the fastest response and to guarantee the listed price!
Call Dennis
Email