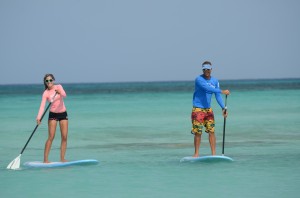 Welcome to Aruba's number one standup paddleboarding and surfing operations.
We have plenty of experience in the surf and paddleboarding world and plenty of patience, and also the ability to teach beginners to surf or paddleboard in a very fun and easy way,which is the key to our succes.
Here at ARUBA SURF AND PADDLE SCHOOL our goal is to teach you the proper skills and techniques for surfing and/or standup paddleboarding. Aruba has great conditions for learning surfing and or paddleboarding and it's also a unique way to experience our island.
Call or email for info.
dmaruba@hotmail.com
00297 – 5930229
We are passionate paddleboarders who do business,not a businnes that does paddleboarding.
A bit about paddleboarding. Aruba is surrounded by crystal calm blue waters which makes for a very nice paddling environment. There are many beautiful spots for paddleboarding. Some different tours are our Sunset toursand also our Mangrove tour on the south side of the island (my favorite).
We also offer some downwind tours meaning we paddle with the direction of the wind and at the end of the tour we will drive back to our starting point.This is a good tour when the wind is blowing a bit too much.
HERE AT THE "ARUBA SURF AND PADDLE SCHOOL" WE WILL GUARANTEE A GOOD TIME NO MATTER THE CONDITIONS. IT IS OUR PASSION IT IS OUR LIFE.
IT IS WHAT WE DO AND WE LOVE DOING IT.
MAKE SURE TO CHECK OUT OUR REVIEWS AND FOTO'S ON OUR FACEBOOK PAGE.
Surf and Paddleboarding School
29 Responses to "ARUBA'S NR 1 SURF AND PADDLEBOARDING SCHOOL"